Intrepid College Prep is always looking for intrepid individuals who share our fundamental belief that all students can achieve on the path to and through college. We hire great people and provide the development, support, and resources to keep our people. To begin the application process and launch your career of impact at Intrepid, click the button below.
View Current Opportunities
Intrepid College Prep has two professional development cohorts in our organization.
Emerging Leader Cohort: The ELC is a new leadership development program offered to staff members at Intrepid who are interested in growing their leadership voice, personal organization, project management, and adult interpersonal skills. This year-long professional development opportunity supports our emerging leaders as they develop the knowledge and skills to move into a leadership role at Intrepid in the near future. If you're an experienced educator that is interested in leadership, then this cohort might be a great fit!
Intrepid New Teacher Cohort: The INTC is a diverse cohort of new-to-the profession teachers that receive supports to ensure they successfully achieve the balance, sustainability, and certification required to flourish as a highly effective 1st year and long-term teacher in our organization. The INTC is a space to reflect and process, provide peer-to-peer feedback, and access targeted resources to address challenges. Teachers in our program will receive the development and support to navigate certification and their first year of teaching in order to be equipped with the tools, skills, and knowledge to sustain their career in education at Intrepid. We also provide tuition, praxis preparation, and certification support so you can launch your career of impact with Intrepid!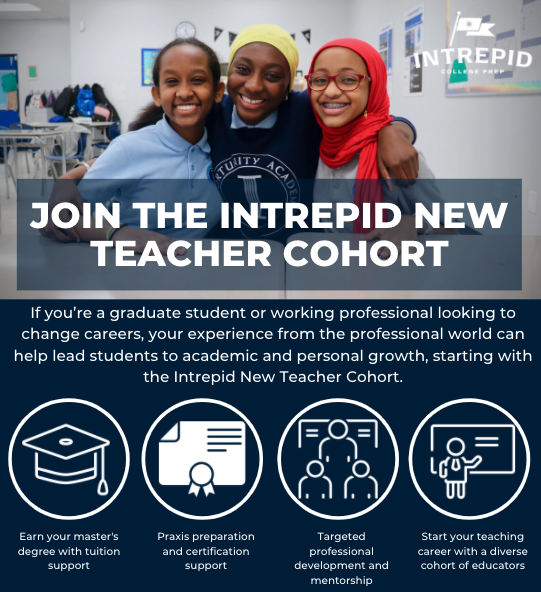 Intrepid College Preparatory Charter School is an equal opportunity employer and does not discriminate on the basis of race, religion, color, age, sex, sexual orientation, marital or familial status, national origin, citizenship, or disability.