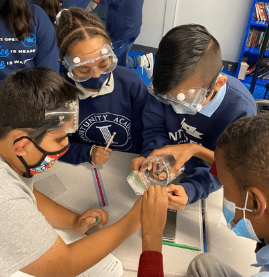 Welcome, Intrepid Families!
We are so excited to welcome new and returning students for the 22-23 academic year, and we'd like to share some important information that will make this time of year easier for you.
Uniforms
You can purchase school uniforms from our vendor, Dress Code. (Go to "find your school" and click on Intrepid College Prep). We also sell a limited amount of uniforms in our front office.
Meals
You can add money to your student's account online at MealTime or send them to the front office with cash or check.
Breakfast Prices:
Full - $2.00
Reduced - $0.30
Lunch Prices
Full - $3.75
Reduced - $0.40
Transportation
If you have not completed an application for the bus, you can do so here. All buses are currently filled, so you will be added to the waitlist. Once space is available, we will contact you.