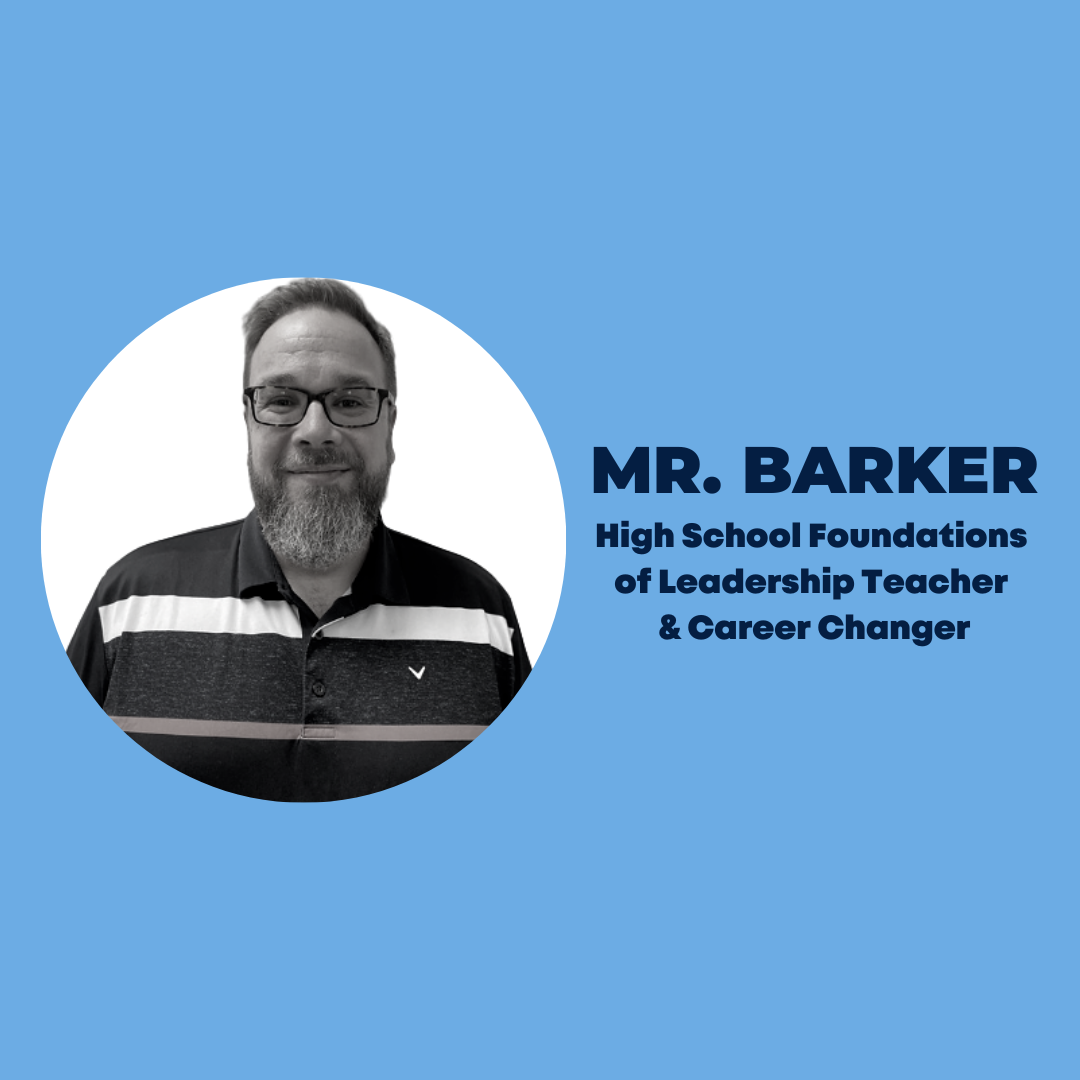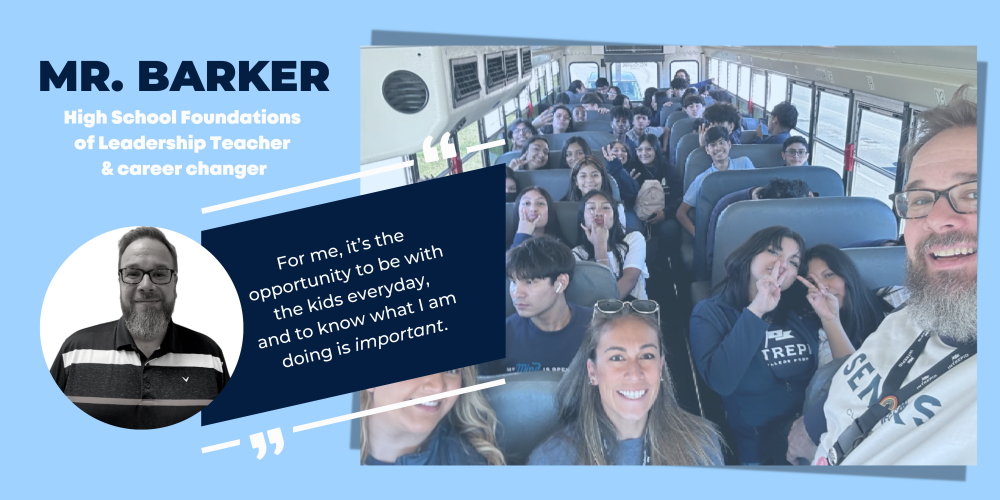 Brad Barker shared his story of leaving 28 years in the business world behind and becoming a Leadership Foundations teacher at Intrepid College Prep.
If you are interested in learning more about becoming a teacher at Intrepid, book a time to speak to our talent team or start your application today!
Tell me about your career path and how it led you to teaching.
When I originally decided that I wanted to go into teaching, it was after working with college interns. I loved the experience of working with students at the start of their career and helping them brainstorm what they wanted to do or become. I loved the coaching and mentoring side of things. It was a great opportunity to invest in the up and coming generation. I had had this idea of getting my Master's in Education to go back and teach, maybe in business school or community college. I had 28 years of business experience. Then, the pandemic happened, and I was laid off when live events came to a standstill. I used my severance to go back and pay for my Master's. A friend suggested substitute teaching, and when I started subbing in high school, I fell head over heels. The teenage years are fun years, and I love that energy. They crack me up and are hilarious.
What did the transition to teaching at Intrepid look like for you?
I would have done it sooner, but the only thing that held me back for as long as it did was that anytime I looked at the prospect of transition, it felt so convoluted and confusing: all the certification, what subject endorsement do you need. All the different licenses and alternate pathways can be so confusing. The pathway was laid out for me when I talked to folks at Intrepid, and the ease of helping me figure all that out was one of the hugest selling points to me. Intrepid connected me with Relay and made something that felt very complex and ambiguous, very accessible and doable. It didn't require earning another degree or going back to school for years, and the school was willing to help with the costs of certification, which was a huge deal for me. Intrepid also made the transition easier by providing opportunities for feedback and coaching. I was just being coached yesterday in my one-on-one meeting, and my coach gave me tips on classroom management and getting everyone to focus in the first five minutes. My coach is really pushing me on positive narration, and it really works! I used it, and we had a fantastic lesson yesterday.
What strengths and skills from your past life have served you in the classroom?
Because I had been in business and in director and leadership roles in the corporate world, it's a lot of the same principles of how you treat people and build relationships. It's just like if you were working with customers, vendors, or colleagues: there are so many parallels, and your productivity depends on how effectively you build relationships. Kids see right through it if you are not there to get to know them. It comes down to being genuine and taking the time to get to know them and what motivates them. I do think education is a calling, and you have to really enjoy being around young people. It helped that I was older and raised kids of my own. You realize that nothing is really the end of the world, you learn to roll with the punches and be flexible, and you live through enough crises, so it doesn't weigh on you. You are able to be present and fully committed to and invested in kids.
When you reflect on this huge life shift that you made, what are you proudest of?
For me, it's the opportunity to be with the kids everyday and to know what I am doing is important. I feel the weight and responsibility of that. I am teaching Leadership Foundations and talking a lot about personal identity as they get ready for college. They wrote an essay about their strengths and weaknesses, and it was so fulfilling to see the level of vulnerability and see that the relationship building paid off. One student talked about being separated from his parents in a refugee camp and coming to America not knowing the language. He shared a beautiful story, and I was honored to be a part of that. I am passionate about the demographics and areas of Nashville that we're working with and about this idea of reducing equity and opportunity gaps. You have to find people who are passionate about what's coming next and who are doing it for the intrinsic value of investing in these kids. I came from the non-profit space, working with families all over the world trying to lift themselves out of poverty, to being in the classroom day to day to empower kids to own their story. The work we are doing is so purposeful and important. I really love what I am doing. After our first three day weekend, I missed the kids and was itching to go back.